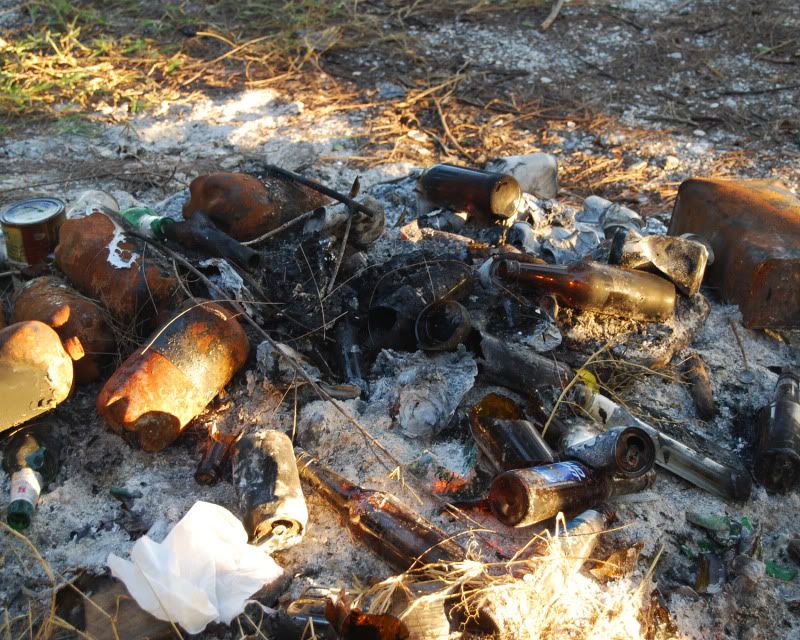 De
ar Education Department:
First and foremost, I am a huge fan of Leave No Trace. Your efforts, along with many other organizations, are helping to ensure the enjoyment of the outdoors for generations to come.

I am emailing you because I would like some information on how I could go about posting signs in a state park. My family and I regularly go camping and one of our favorite spots is a State Park near our community. In fact, we go on a camping trip there every year for my son's birthday.
Over the years we have seen a lot of trash left behind from careless or negligent visitors. While camping there this past Thanksgiving I found the attached image on our island and I was greatly disappointed. I have never noticed before, but there are no signs on these islands asking people to clean up after themselves and leave the campsites better than they found them. I think signs would make campers and beach goers more aware of the impact they have.
Can you provide me with any information on how I can accomplish this outreach? I'm not sure if you could send me signs that I can post, or if I need to get permission from the land managers. Either way, I really want to take action.
Any help or advice you could provide would be greatly appreciated.
Sincerely,
Un-Happy Camper
-------------------------------------------------------------------------------------------------------------------------------------
Dear Un-Happy Camper,
Thanks for your support of the Leave No Trace program and for doing your part to promote responsible outdoor recreation. We were very excited to receive your email because it gives us a chance to tell you about an exciting new program in 2010.
This program is called "Leave No Trace Hot Spots" and is aimed at accomplishing exactly what you proposed in your email—grassroots and community-driven projects that work to improve the condition of a designated "hot spot" using Leave No Trace education, resources, and outreach.
The intended outcomes of this program are:
Measurable improvement in on-the-ground conditions
Engaging a large number of volunteers to support efforts
Enlisting new partners/members to get involved in the area
Building sustainable relationships and programs that perpetuate effective Leave No Trace programming
One primary Hot Spot will be chosen per quarter, though the Center intends to work with all applicants to the program. Application criteria includes:
Name

of the individual and/or organization
List of impacts

that are occurring as a result of recreation
List of potential partners

in the local area who would be well suited to collaboration on project efforts
Intended outcomes

of the project efforts
Description of the potential reach

of the project efforts and who will benefit
Nominator(s) history

with the Leave No Trace program
It is also important to note that applications must be submitted with either photographs or a short video of the proposed Hot Spot. This media will serve as a means to quantify the before and after of the project, as well as to communicate program successes.
For more information about the Leave No Trace program, and to apply, please visit the page on the Leave No Trace website (under Community): http://lnt.org/01_community/hotspots.php
You will find a link to the application on this page. If you have additional questions, please email hotspots@LNT.org
Thanks again for your support! We look forward to working with you.
Sincerely,
The Education Department