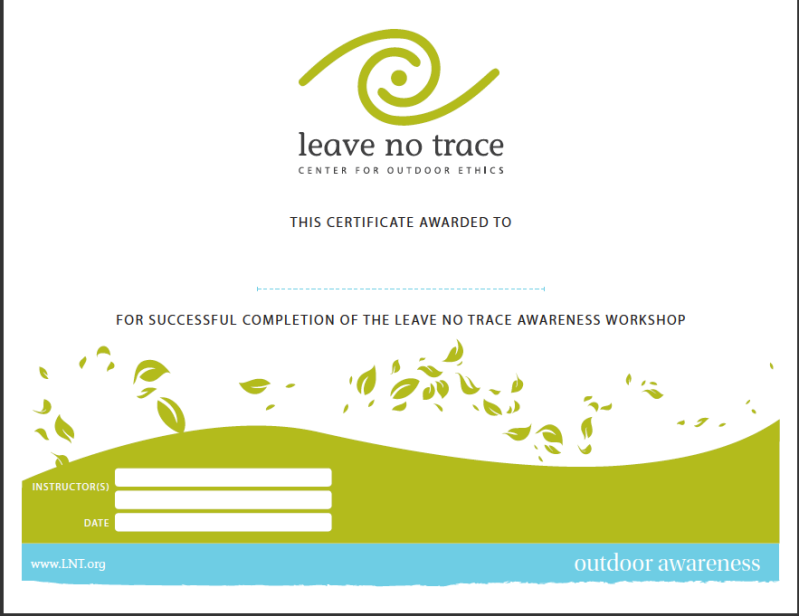 The Center has recently updated two useful training resources, which are now both available directly from the Center's website, in
the online store
.
The first is an updated Leave No Trace Awareness Workshop Certificate (shown at left). While available for
FREE
as a
download (PDF file)
from the website, the Center is now offering printed color certificates on heavy paper stock for $1.00 each or $0.50 each when 50 or more are ordered at once.
Giving certificates to Awareness Workshop participant is a great way to recognize their participation in your Leave No Trace workshop. In addition, many attendees find the certificate useful for professional development. For more information on Awareness Workshops, please visit
http://lnt.org/training/awarenessworkshops.php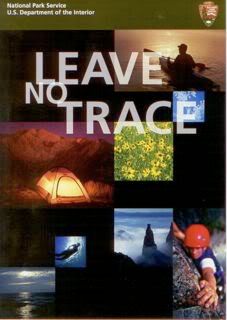 The second new resource also available in the
Leave No Trace online store
is the updated Leave No Trace Trainer Course Participant Packet. The updated packet now includes the National Park Service/Leave No Trace DVD (shown at right). This 9-minute video is a great tool for any Leave No Trace training, educational session or outreach opportunity. Pre-assembled Trainer Course packets are an easy way to ensure that course participants have the minimum information they to get the most out of a Leave No Trace Trainer Course, and the DVD is an excellent addition. Trainer Course Participant Packets come in a distinctive Leave No Trace folder and contain the following items:
National Park Service Leave No Trace DVD;

North America Skills and Ethics Booklet;

Frontcountry Guide;

Pocket Guide;

Library of Plastic Ethics Reference Cards;

Leave No Trace Bumper Sticker;

4-pg. Guideline to running an Awareness Workshop;

Reprint of the "Authority of the Resource" article by Dr. George N. Wallace;

Adhesive participant name tag.

To view additional Leave No Trace education and training resources (many of which are FREE), please visit the
Educational Training and Resources page
.