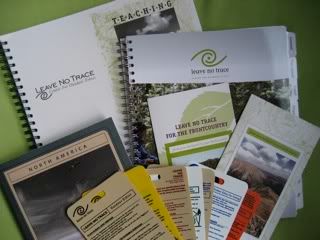 Dear Education Department,
I was writing to inquire about your grants and scholarship programs. I volunteer for a youth-serving organization in my community and am interested in using some of your teaching resources to teach my kids about Leave No Trace. We have an overnight camping trip coming up later this spring and we have a limited budget for the program. I had looked into your grants and scholarships program earlier in the year, but it didn't look like the deadlines were posted. Can you provide me with an update or suggest other resources that I can use?
Sincerely,
Community Leader
********
Dear Community Leader,
Thank you for your email! We always enjoy hearing about the great work that individuals are doing in their communities on behalf of the Leave No Trace program. Thanks for checking back in about the grants and scholarships. We did make recent changes, so here is an update on deadlines:

Tools for Teaching: April 1, July 1 and October 1, 2010;
Master Educator Scholarships: April 1 and August 1, 2010;
Packing with PEAK: June 1, 2010;
Connect Grants for Culturally Diverse Communities: June 1, 2010.
Please make note of this update from our Grants and Scholarships page:
Due to funding, limited grants will be awarded in 2010. Please refer to the specific grant that you are applying for to determine application deadlines. Apply for a grant only if your project fits into the designated timeline. At this time, the Center is not accepting applications for grants that serve the international community.
With that in mind, the Center has a number of other free resources that could benefit your community programs:
1) Educational and Training Resources Pages with materials you can download
2) PEAK and Teen program pages with activities you can download
3) Online Awareness Course to take from anywhere, anytime
4) YouTube Page with online instructional videos
Keep in mind that a Leave No Trace lesson could be as simple as a discussion while you are packing bags for a hiking or camping trip. We appreciate all your support and hard work and look forward to working with you in the future.
Sincerely,
The Education Department