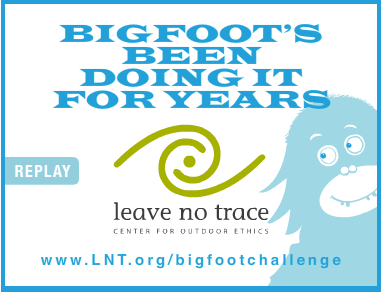 Every month we're offering new Bigfoot Challenges – an easy way for you to get involved and demonstrate your commitment to responsible recreation. You can participate each month and you'll have the opportunity to win great outdoor gear prizes every time you pledge to Leave No Trace – just like Bigfoot!

1. Take the Leave No Trace online Awareness Course and invite others (friends, family, coworkers) to do the same.
2. Earth Day is next month. Find an event in your area and get involved. Volunteer, participate, take action.
3. Ensure your computer's energy saver power settings are enabled right now.
4. Write why your individual membership to Leave No Trace is important to you and email it to the Center at sara@LNT.org (mailto:sara@LNT.org).

And if you haven't seen it yet, visit the Bigfoot Challenge page on our website, with new animation provided by Leave No Trace member, Dave Titus!