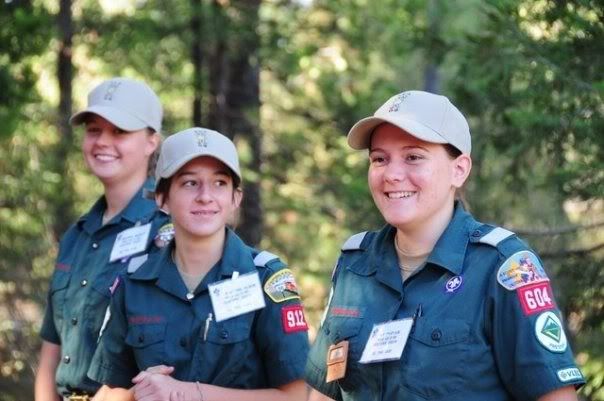 California Teen Teaches Leave No Trace
Teenager, Amy Chapman, is an avid backpacker and Leave No Trace Trainer. She was introduced to Leave No Trace by her father, and her environmental sensibilities led her into a teaching role. She now teaches Leave No Trace to youth and adults through the Boy Scouts' Woodbadge program. Questions for Amy.
LNT

: What activities do you do outdoors?
AC
: One of my favorite outdoor activities is backpacking. I love being with my friends and family in the backcountry, living off whatever I've brought and hiking in all sorts of beautiful places. Besides that I'm a huge fan of ultimate frisbee, which I learned to play at Philmont. The best thing about it though, is all the fun and interesting people I've gotten to meet.
LNT

: Where did you learn about Leave No Trace and what about it made you interested in teaching it?
AC
: I first learned Leave No Trace from my father who got it from his Woodbadge training. We were asked to teach it to our sister Troop, and so we did a lot of our own research into the topic. I really liked its focus on keeping the wilderness as it is because I've always hated litter. I see it all the time in my city and it's really gross. So when I go to a nice place in the mountains or the desert I like seeing it clean and natural.
LNT

: Can you tell me about the Leave No Trace training that you did? Who were the people that you trained?
AC
: After that I started working as a youth staff member on Woodbadge to train the participants, both spring and fall of 2007 and every fall course since. We teach them all about Leave No Trace on their fourth day, which in our area is their first day on the second weekend. Sometimes it's a Round Robin and other times it's a classroom set-up. Now that the Leave No Trace principles are a Boy Scouts of America requirement (which is great news!) my crew and I will be doing presentations for our current sister troop. I train both youth and adults but, I like training the adults more, most of them understand what a challenge it is to keep nature like it is and how important it is that it stay that way.
LNT

: Why do you think it is important to teach people about Leave No Trace? Do you have any more plans to be a Leave No Trace trainer?
AC
: I think it's important because it's taken for granted most of the time, if we don't take care of it, nature will disappear. It's the first set of guidelines we've ever had to create just to keep us from destroying something beautiful, and the principles are extremely easy to remember and do. I hope to continue teaching and practicing the seven principles. It's a lot of fun and definitely worth it.